Clinical Services
Nuclear Medicine Service
Nuclear Medicine
Much more than a means of diagnosis
Generically, nuclear medicine is an independent medical specialty used for both diagnosis and treatment. It is a diagnostic tool for detecting disease, determining the disease stage and evaluating therapeutic responses for different types of cancer, based on the use of radiopharmaceuticals to obtain functional images. It also has very important therapeutic use, particularly for, among others, endocrine and neuroendocrine pathologies, bone metastases in patients with prostate cancer, and thyroid cancer metastases.
Nuclear Medicine
Diagnostics and Therapeutics
A double function
The fundamental basis of nuclear medicine is the radiopharmaceutical – an active substance containing a radionuclide that emits radiation. The radiopharmaceutical administered (orally or intravenously) to the patient is taken up and retained by cells and tissues. The capacity to localise specific organs and receptor cells allows the radiopharmaceutical to supply information about the disease process, based on function and cellular anatomy. The radiopharmaceutical emissions are picked up by external detectors, such as the gamma camera (scintigraphy equipment, SPECT) or PET/CT tomography, which create images from this radiation. At the Champalimaud Clinical Centre, our principle is to use radiopharmaceuticals to provide the best possible service and rapid responses in all areas of nuclear medicine, both diagnostic and therapeutic. This includes generic nuclear medicine, single-photon emission computed tomography, positron emission tomography (PET/CT), bone densitometry, nuclear haematology, and radionuclide therapeutics.
The activities developed and the use of radiopharmaceuticals are intended to help diagnose and define the most adequate clinical orientation for optimal treatment, but they also have therapeutic capabilities beyond oncology. But it is in oncology that they play a major therapeutic role.
Professor Dr. Durval Costa, Head of the Nuclear Medicine Service
Nuclear Medicine
Radiopharmaceuticals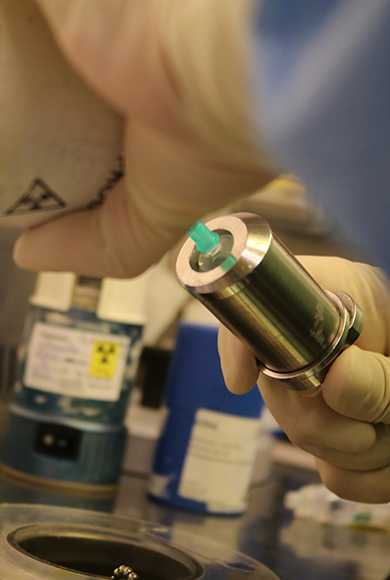 Using radiation for treatment
The main advantage of using radiopharmaceuticals for the treatment of pathologies is that alpha and beta emission radionuclides can kill cells very quickly. This efficiency, combined with the fact that their radiation is very short-range, makes radiopharmaceuticals an effective and safe therapeutic option. In most situations, it is administered in an outpatient regime, but whenever necessary, patients can be hospitalised in an adequately prepared room, where they can rest until the radiation is cleared from their system, being released only when it is safe to do so. The Nuclear Medicine Service of the Champalimaud Clinical Centre has the capacity and availability to produce its own radiopharmaceuticals, a process that is still not routine in many Nuclear Medicine services in Portugal or even internationally. The Service has been responsible for the introduction of new diagnostic and therapeutic methods using radiopharmaceuticals. Radioactive pharmaceuticals were not used until recently in this context – and for some of them, the CCC was a pioneer in Portugal. Iodine-1177, Lu-DOTATATE23, technetium-99m, iodine-131, and 177 Lu-DOTATATE are examples of this.
Nuclear Medicine
Clinical Research
Pioneering the use of new radiopharmaceuticals
Our whole experienced team is actively involved in clinical research and in many other externally funded research projects whose goal is to improve diagnostic quality and nuclear medicine therapeutics. Among the scientific activities of the service are:
1. Dopaminergic neurotransmission in feeding learning and obesity;
2. Distress and regional brain metabolism: a correlational study in metastatic breast cancer patients;
3. Automatic detection of metastases by Bone Scintigraphy BTSCAD – Bone Tumour Scan – CAD;
4. Labelling anti-PD-L1-mAb with radionuclide for imaging PD-L1 expression in cancer - Material Transfer Agreement (MTA), Genentech-Roche.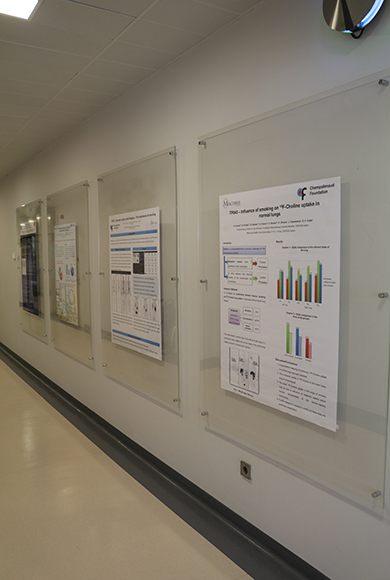 Nuclear Medicine
Certification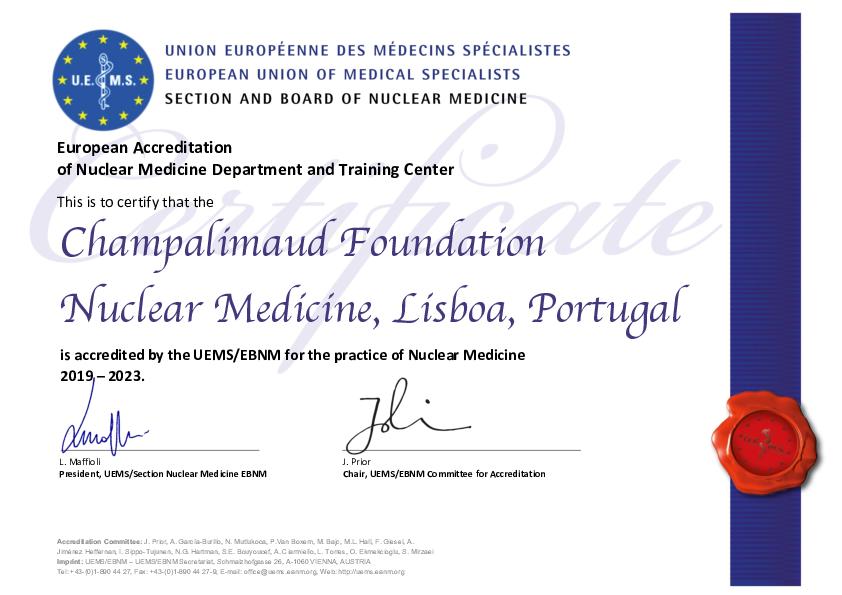 A certified service
The Nuclear Medicine Service of the Champalimaud Clinical Centre has been recognised through accreditation as a Nuclear Medicine Service (European Union of Medical Specialists - Section and Board of Nuclear Medicine) for the period 2019-2023.
Nuclear Medicine
The Team