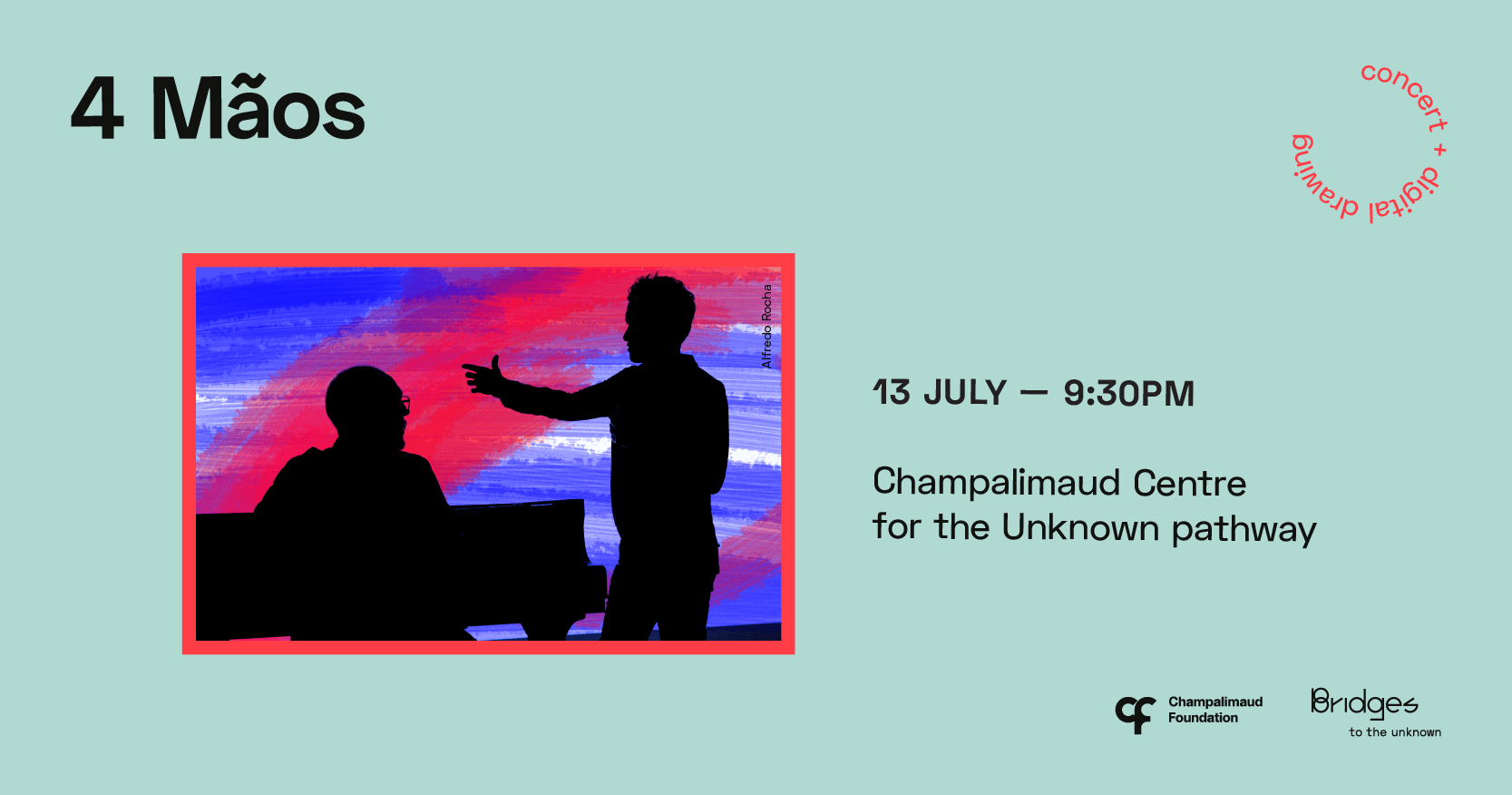 Concert for piano and digital pen, with Filipe Raposo and António Jorge Gonçalves
Date: 13 July 2023
Time: 
9:30pm - Concert
10:20pm - Dialogue with the artists

Venue: Champalimaud Centre Concourse (outdoor space between the two main buildings)
Free Entrance 

Sinopse
4 MÃOS is a concert for piano and digital pen - a work in progress between pianist Filipe Raposo and artist António Jorge Gonçalves. In an intimate dialogue between real-time digital drawing and piano, the artists have been built a kind of language that encompasses time, structure, texture, abstraction, evocation and emotion. In an environment of improvisation and spontaneity,  the aim is to make this relationship clear, and allow the dialogue between the two artists to be transparent. Each performance is configured as a unique act of complicity.
Over recent years, they have been investigating the Vale do Côa rock engravings, which integrate into this project. Starting from the engravings and conversations with archaeologists, anthropologists and sociologists, the artists tried to understand the motivations from those who created them. And humanity continues to make sound and visual engravings, inscribed on different surfaces: walls, screens, digital screens and  stages. In this sense, the 4 MÃOS concert, which will be presented at the Champalimaud Centre for the Unknown, proposes to reflect on and travel to these different representations of humanity, with their stories, portraits and social interactions, from thirty thousand years ago to the present day.
 
Bios 
António Jorge Gonçalves
António is the author of graphic novels published and exhibited in Portugal, Australia, Belgium, Brazil, France, Macau, Spain, South Korea, and the United Kingdom. He made scenography for theatre and worked with several directors. Through digital drawing in real time and manipulation of objects using an overhead projector, he has performed with musicians, actors and dancers, including Amélia Bentes, Bernardo Sassetti, Camané, Ellen Fullman, Gino Robair, Gustavo Matamoros, Mário Laginha , Micro Audio Waves, Divino Sospiro Orchestra, Lisbon Metropolitan Orchestra, and Lisbon Sinfonieta. He created the Subway Life project, drawing people sitting on the subway. Between 2003 and 2018, he drew weekly political cartoons for Inimigo Público (newspaper), having also been published in Le Monde and Courrier Internacional.
Filipe Raposo
Filipe is a pianist, composer and orchestrator. In addition to music, he regularly collaborates as a composer and performer in cinema and theatre. He has worked with some of the main names in Portuguese music: Sérgio Godinho, José Mário Branco, Fausto, Vitorino, Amélia Muge, Camané, Carminho, Maria João. Since 2004, he has been a resident pianist accompanying silent films at Cinemateca Portuguesa. Whether appearing as an accompanying pianist or a billed artist, he has performed at several European jazz festivals and has edited five albums: First Falls (2011) – Amália Foundation Revelation Artist Award, A Hundred Silent Ways (2013), Inquiétude (2015), Rita Maria & Filipe Raposo / Live in Oslo (2018), ØCRE (2019).
 
Dialogue with the artists
The artists Filipe Raposo and António Jorge Gonçalves will be joined by archaeologist João Zilhão and neuroscientist Rui Oliveira, with the moderation of journalist Sara Sá.