Clinical Areas
Gynaecology Unit
Multidisciplinary Pathology Units
Gynaecology Unit
The particular areas of interests of the multidisciplinary Gynaecology team, active since 2014, are ovarian cancer and the role of HPV in cervical cancer. The team´s activity is focused on early diagnosis, treatment optimisation and new minimally invasive surgical approaches for uterine and ovarian cancers.
Gynaecology Unit
Pathology
Each case is unique
The Gynaecology Unit treats the various gynaecological cancer types. Among the most common are endometrial, cervical and ovarian cancers.
Endometrial carcinoma is currently the most frequent malignant gynaecologic cancer in women, but the treatment success rates are quite high, largely due to the fact that they are usually diagnosed at early stages. On the other hand, although having a low incidence, ovarian cancer is one of the most lethal cancers in women. In both cases, genetic factors can enter the equation, playing an important role.
It is precisely because we know that risk assessment and early diagnosis can be crucial for more successful treatments that the Gynaecology Unit of the CCC has adopted the best and most recent national and international protocols in this area of activity. The exams performed in neoplastic pathology play a major role in the early identification of oncologic pathologies.
In addition, since these are cancers that are associated with the female reproductive organs, they have implications for the future capacity of women to conceive, which is of particular relevance in younger women. Apart from having to deal with an oncological disease, the patients also have to face the long-term physical and emotional consequences arising from the disease.
To mitigate distress and ensure that the best therapeutic plan is selected, each case is analysed by a multidisciplinary team that includes professionals specialised in oncological gynaecology – namely two surgeons and an expert in clinical diagnostics and in the follow-up of preneoplastic lesions – medical oncologists, radio-oncology specialists, radiologists, pathologists and geneticists, nuclear medicine experts, specialised nurses, psycho-oncologists, nutritionists and palliative care experts.
The team that makes up this Unit dedicates itself to the study and treatment of the following pathologies: vulvar cancer, vaginal carcinoma, cervical cancer, endometrial carcinoma, gestational trophoblastic neoplasia, uterine sarcomas, epithelial cancer of the fallopian tubes, epithelial cancer of the ovary and non-epithelial ovarian tumours. The Unit's main areas of interest are thus early diagnosis of cervical cancer and new minimally invasive surgical approaches in uterine and ovarian cancer.
We say that "medicine is an art", which means that we have to adapt, at any given moment, our scientific knowledge to the needs of each person. Not only to their physical needs, but also to their psychological, professional, social and cultural needs. This is not always easy, or obvious. It is maintaining this balance that is a real art.
Dr. Henrique Nabais, Head of the Gynaecology Unit
Gynaecology Unit
Diagnosis and Treatment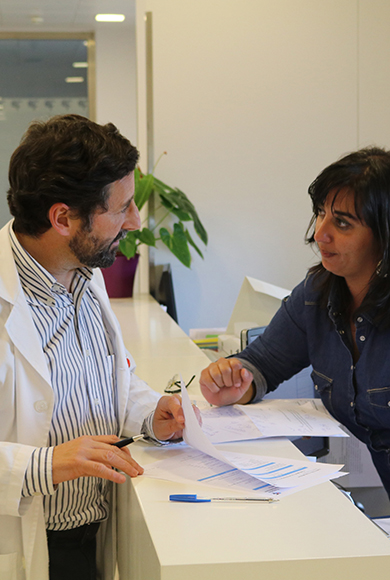 Therapeutic personalisation
In order to achieve the best clinical results, the medical team of the Gynaecology Unit currently relies not only on standard therapeutics but also on the most advanced minimally invasive robotic surgery equipment and techniques, available in the operating rooms of the CCC's Surgical Centre.
This surgical approach can be particularly important for highly complex gynaecological pathologies, as is the case in gynaecological cancers, and in particular in endometrial cancer, cervical cancer and in some cases of ovarian cancer. It is a very safe approach, in which countless advantages translate into a faster recovery, lower pain, lower blood loss during surgery and lower complication rates when compared to conventional surgical options.
Gynaecology Unit
Clinical Research
Advancing knowledge
Research is also a priority for the whole Gynaecology Unit team, with the clear goal of contributing to the advancement of knowledge in this area, and to the definition of new techniques and approaches to gynaecological cancer, namely those that lead to interventions that have a lower impact on the quality of life of the patient.
The foundations are already in place for research projects in the areas of phototherapy, radioguided surgery and the development of genomic studies applied to the individualisation of multidisciplinary therapeutic plans. Already ongoing is the research project of New Diagnostic and Follow-up Tools for Ovarian Cancer – OVA1, proposed by the Unit in collaboration with the Champalimaud Foundation's Biology of Systems and Metastasis (BSM) programme. The team is also developing a study about the prevalence of BRCA mutations in patients with ovarian cancer, fallopian tube cancer and non-mucinous epithelial primary peritoneal cancer (PADOC study). This is national collaborative study, with logistic and financial support from AstraZeneca, developed in collaboration with other institutions dedicated to the treatment of cancer.
The Unit regularly collaborates with the Radiotherapy, Radiology and Nuclear Medicine Units in screening ovarian and endometrial cancer, in the oncological risk assessment programme and in elaborating research protocols for Stereotactic Body Radiation Therapy (SBRT) in patients with endometrial carcinoma.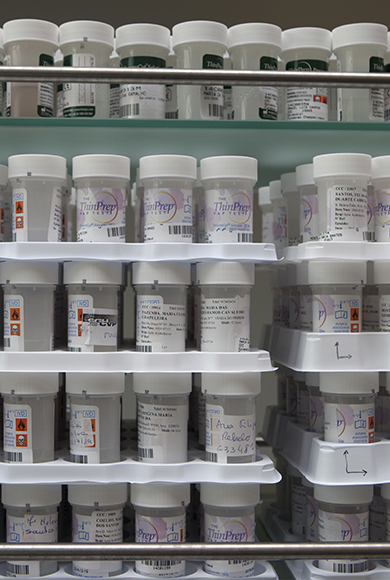 Gynaecology Unit
The Team